STUdents who left the university in good academic standing should contact University Admissions to initiate the return process.
Students not performing to the minimum academic standards may receive a letter(s) from the Associate Dean of Students. The following is a brief description of each letter and the corresponding action items to be completed by the student.
---
Academic Probation: 
Not required to meet with the Re-Admissions Committee.
This letter serves as a warning. Students receiving this letter are not meeting the minimum requirements for good academic standing at Mines.
We recommend that you contact CASA and seek help and/or assistance. CASA provides a multitude of services to strengthen academic performance. All services are free to students.
Double F or Triple F: 
You will be placed on a "Special Hold" status with the Registrar's Office regardless of your GPA.
Double F requires you to get written permission to remove the hold. Enclosed is a link to the form that you will need to complete and turn in to the Registrar's Office: FF Form
Triple F requires that you meet with the Re-Admissions Committee for advisement. **(see note below)**
Academic Suspension: 
You are required to meet with the Re-Admissions Committee prior to returning to classes at Mines.
You will not be allowed to take classes for at least one full semester.

Summer classes may be approved through permission by the Associate Dean of Students, Colin Terry, cterry@mines.edu.
Students who have just completed their first semester at Mines may meet with the Re-Admissions committee without sitting out a semester. This is an exception offered in the specific letter received by such students. **(see note below)**
---
Readmissions Committee 2019-2020 meeting dates:  
August 12, 2019
November 1, 2019
December 12, 2019
January 6, 2020
March 20, 2020
May 7, 2020
---
To Schedule a Meeting
To meet with the committee in March, May, August, November or December: 
An appointment with the Readmissions Committee must be scheduled at least 2 weeks prior to the meeting date. Meeting requests less than 2 weeks prior to the meeting date are subject to availability and may not be honored until the next scheduled date.  Individuals scheduled to meet with Re-Admissions will receive a detailed email ONE WEEK BEFORE their meeting. This email will address many logistical details.  The email will also confirm the meeting time and location. Anyone who does not receive this email should contact Caroline Fuller at cfuller@mines.edu or 303-273-3350
To Meet with the Committee in January: **(note regarding first-semester suspension and triple F holds)**
January meetings are for students on first-semester suspension (e.g., those who were suspended in their first-term at Mines) and Triple F holds. Students who receive their notification letter (detailing suspension or Triple F) over the winter break should follow the instructions provided in the notification letter and request a meeting through link provided in the letter. Please note the required response date outlined in the notification letter.  Students should then check their email for notification of their confirmed meeting time.
---
In Preparation for your Meeting with Readmissions:
The Re-Admissions Committee is made up of faculty representatives from across the university. Schedule your meeting with the committee a minimum of two weeks prior to that meeting.
The following bullets outline items to prepare/remember for your meeting with the committee:
Five copies of a letter addressing the challenges that led to your unsatisfactory academic performance. The letter should also state how your performance will improve if re-admitted. (*This is welcomed but not required for Triple F Meetings.)
A list of classes you plan to take next semester.
A calculation of the GPA needed to not be suspended again at the end of next semester.
If you've taken coursework elsewhere (e.g., at a local community college) while away from Mines, bring unofficial or official transcripts and/or evidence of your performance (e.g., graded exams or letters of recommendation).
We encourage business attire when meeting with the committee.
Arrive promptly and be prepared.
A student on probation who fails to meet both the last semester grade period requirements and the cumulative grade-point average given in the table below will be placed on suspension. A student who meets the last semester grade period requirement but fails to achieve the required cumulative grade-point average will remain on probation.
How to Interpret the Chart Below:
When comparing your transcript to the chart below, use the cumulative GPA hours column total from your transcript as the number in the total Quality Hours column in the chart.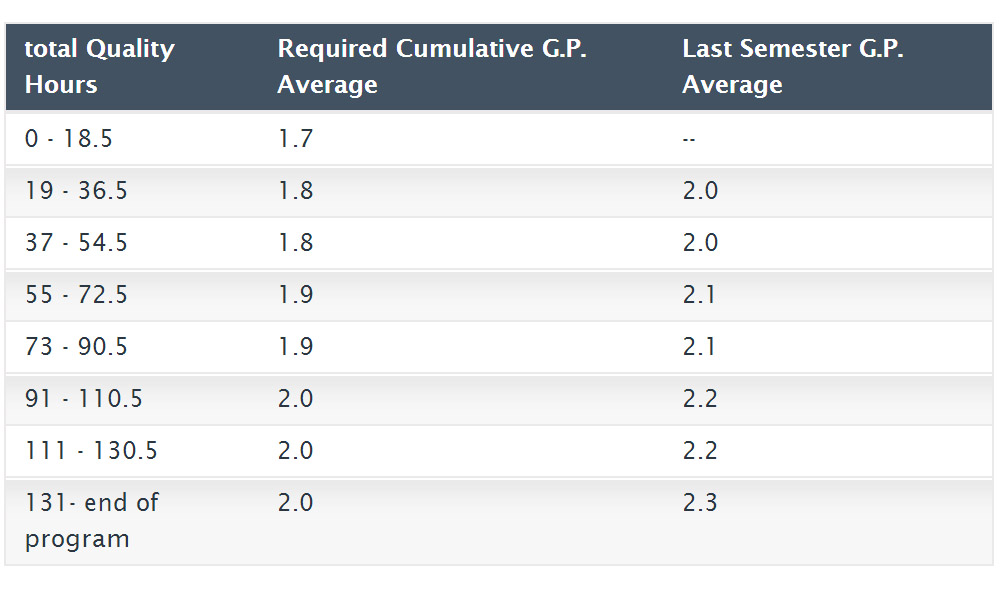 A freshman or transfer student who fails to make a grade-point average of 1.5 during the first grading period will be placed on suspension.
---
If you have further questions about the readmissions process, please contact Colin Terry, Associate Dean of Students, cterry@mines.edu, or Caroline Fuller, Program Administrator, cfuller@mines.edu or call 303-273-3350.